_
around the
car_
Mercedes-Benz vehicles are outstanding, fascinating, desirable. With our contribution to the Mercedes-Benz Operating System (MB.OS), we are working on one of the Group's strategic core topics.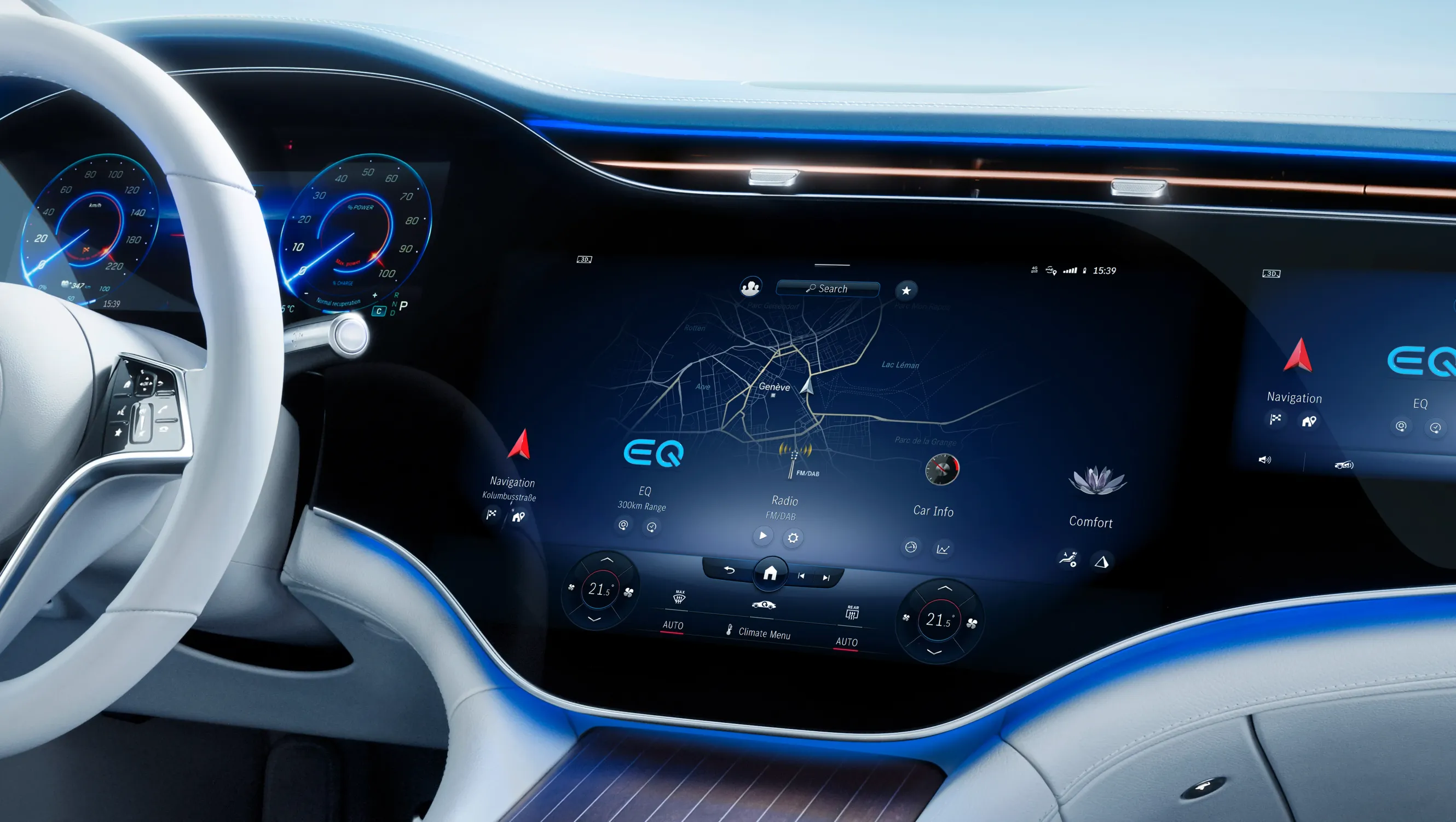 Mercedes-Benz Operating System
MB.OS is the in-house operating system we develop together with Mercedes-Benz Research & Development and other tech hubs within the Group. The system intelligently connects all vehicle functions to each other. Customer relationship data, data protection and access to all vehicle domains such as infotainment, automated driving, body & comfort and driving & charging are centralized.
Digital LuxuryMB.OSIntelligent CloudIn Car AppsCar Software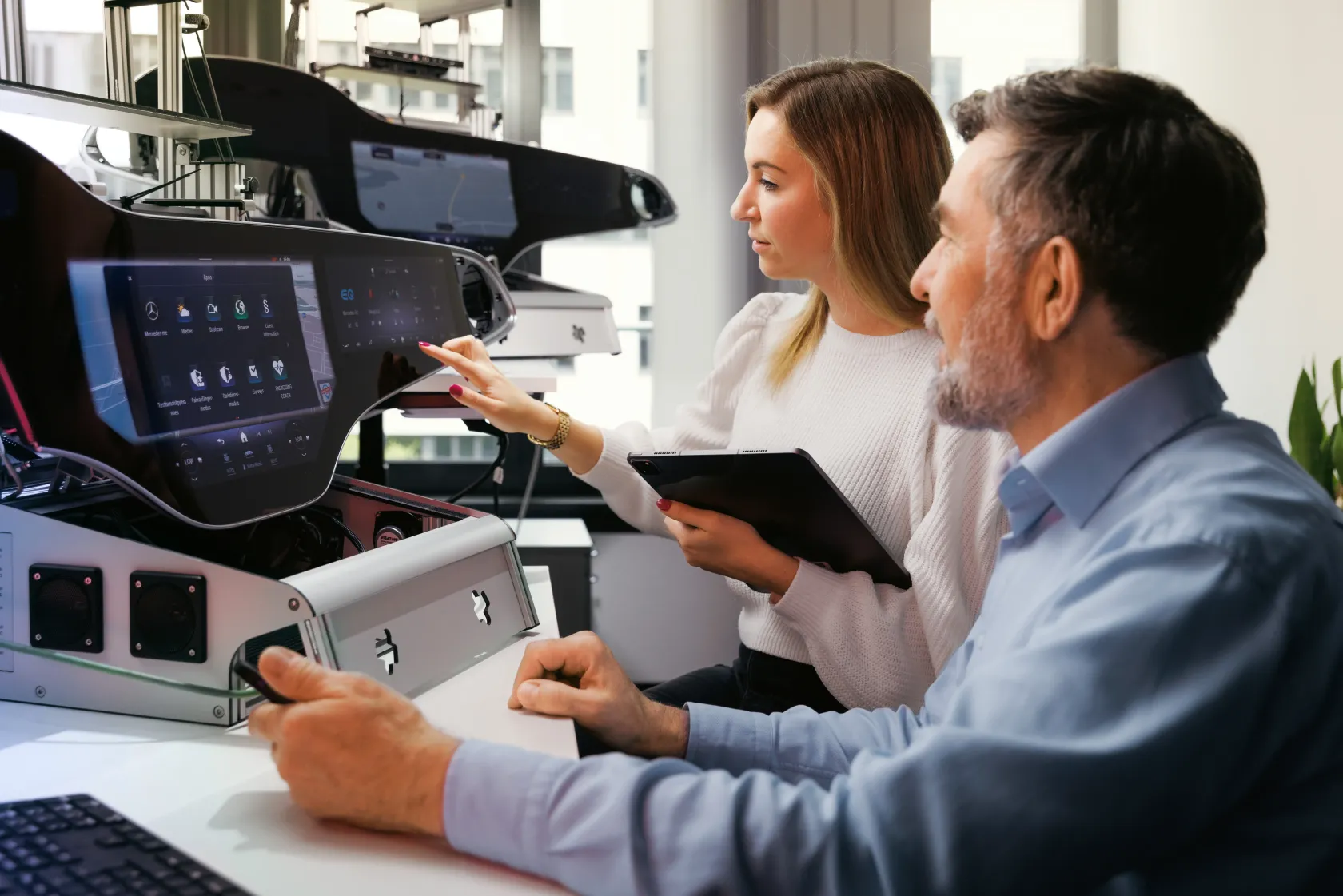 MB.OS is based on a chip-to-cloud architecture that allows hardware and software to be decoupled from each other. As a result, they can be further developed independently of each other and kept up to date.
Mercedes-Benz Intelligent CloudThe Mercedes-Benz Intelligent Cloud is the digital foundation of Mercedes-Benz. It offers a reliable infrastructure, many frameworks, functions and processes as well as guidelines and applications for connected cars and MB.OS features. Among others, our Charging Station Platform solution and Software Update are operated on the Mercedes-Benz Intelligent Cloud.
Charging Station PlattformThe Charging Station Platform provides Mercedes-Benz customers with data and services related to charging stations for electric vehicles and services in the Mercedes-Benz environment such as charging station information from various providers, an availability forecast and the possibility of starting the charging process without a charging card (Plug & Charge). We are responsible for the entire development, operation, security and analytics of the platform.
Over-the-air software updatesStay always fresh – that's what we expect from our software. With over-the-air updates, we live up to this claim. Software Update refreshes control units and apps at the touch of a button – regardless of whether the vehicle is at the customer's site, in an auto repair shop or still on the production line. Together with Mercedes-Benz units, we build essential parts of the Update and are responsible for upstream documentation, release and planning processes.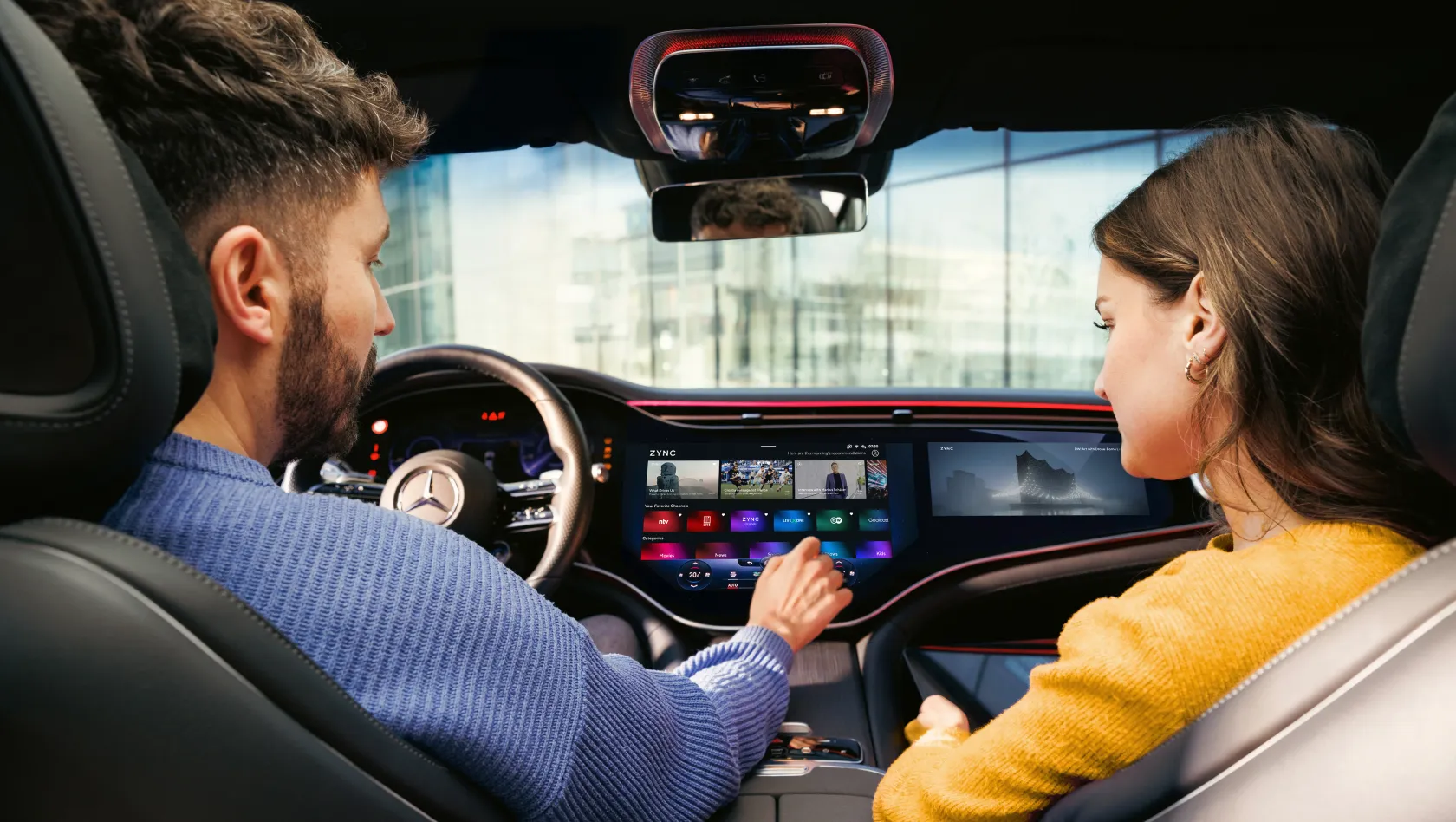 _
in car apps_
We don't just keep an eye on future trends, we set them ourselves – for example with in-car apps for more safety, comfort and fun in the vehicle! In doing so, we not only have various apps in mind as end products, but also ensure optimal conditions for developers at Mercedes-Benz. With our own development environment, we simplify app development in the whole Group. A great example of one of our in-car apps is ZYNC which Mercedes-Benz drivers can currently access via the head unit in their vehicle.
ZYNC App
With ZYNC App, Mercedes-Benz customers can enjoy a cinematic experience in their car. Based on real-time vehicle data, the platform suggests tailor-made blockbusters, series and documentaries so that Mercedes-Benz customers can, for example, optimally bridge the time spent charging. We develop the backend of this in-car app which opens the ZYNC interface in the vehicle, collects real-time vehicle data and creates a personal viewer profile.
Onboard und EmbeddedIn the onboard and embedded environment, we develop control units for future Mercedes-Benz series. Our software intelligently combines the worlds of functions and mechatronics. Specific control units that give drivers a moment of good feeling before and during their journey are the Central Exterior and Interior Controller as well as the Mobile Access Unit for the digital key.
Central Exterieur und Interieur ControllerThe Central Exterior and Interior Controller centralizes various control units and vehicle functions from the comfort and safety sector in one control unit. Functions such as ambient lighting and air conditioning, as well as the locking function and anti-theft device ensure that Mercedes-Benz drivers feel completely comfortable and safe while driving.
Digital Key (Mobile Access Unit)Smart devices have become indispensable as smart, constant companions in everyday life. With smartphones, for example, credit cards and tickets have been digital for a long time now – so why not the car key? With our Digital Key, Mercedes-Benz drivers are no longer bound to a physical key, but always have it with them on their smartphone. Our Digital Key comes with additional advantages: it can be shared with several people and provided with properties such as time validity, speed/power limit or geofence.