_
we love and
live tech_
We are tech. We are innovators. We are #techinnovators. With our know-how, we develop the latest technologies as the basis for new products and innovations.
"We strive for innovation and play a decisive role in shaping the digital future of Mercedes-Benz. Now is the time to transform and improve the automotive sector." Sabine Wolz, speaker
We work with different tools and platforms to make development more efficient and our software ready for the future. Therefore, we use open source software and components from the Cloud Native Computing Foundation (CNCF) ecosystem.

Our efforts are rewarded: In April 2023, we won the Top End User Award 2023 at KubeCon + CloudNativeCon Europe 2023. We received this award for our commitment to cloud native development and numerous contributions to the cloud native ecosystem.
#we_love_and_live_tech_01
_
let's get techie_
We are tech! That's why we even have our own unit that deals with topics such as cyber security, developer productivity, cloud native platforms and autonomous systems. Our goal is to promote new technologies and to secure our software solutions according to current standards. Our projects cover a wide range – from optical damage detection through AI models, penetration testing of vehicles up to a large-scale Kubernetes platform. We always focus on using the latest technologies to create solutions that help all our colleagues – regardless of their field of work.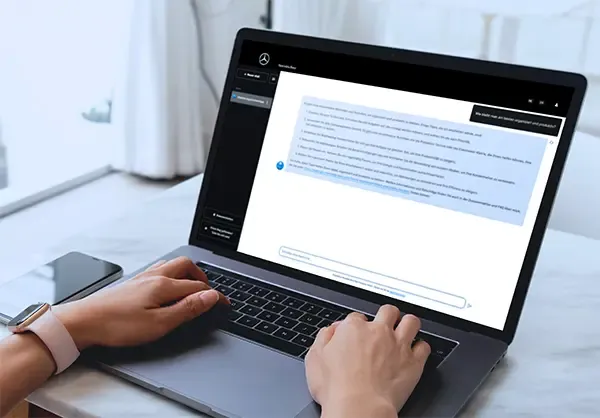 _
our open source engagement_
An important part of our corporate culture is knowledge sharing. We use Free and Open Source Software (FOSS) components in our developments, actively contribute to the FOSS community and are an active member of the Eclipse Foundation, Linux Foundation and Cloud Native Computing Foundation. Furthermore, we are a strategic member of the Eclipse Foundation's Software Defined Vehicle Working Group.
Mercedes-Benz Open-Source
Mercedes-Benz FOSS Manifesto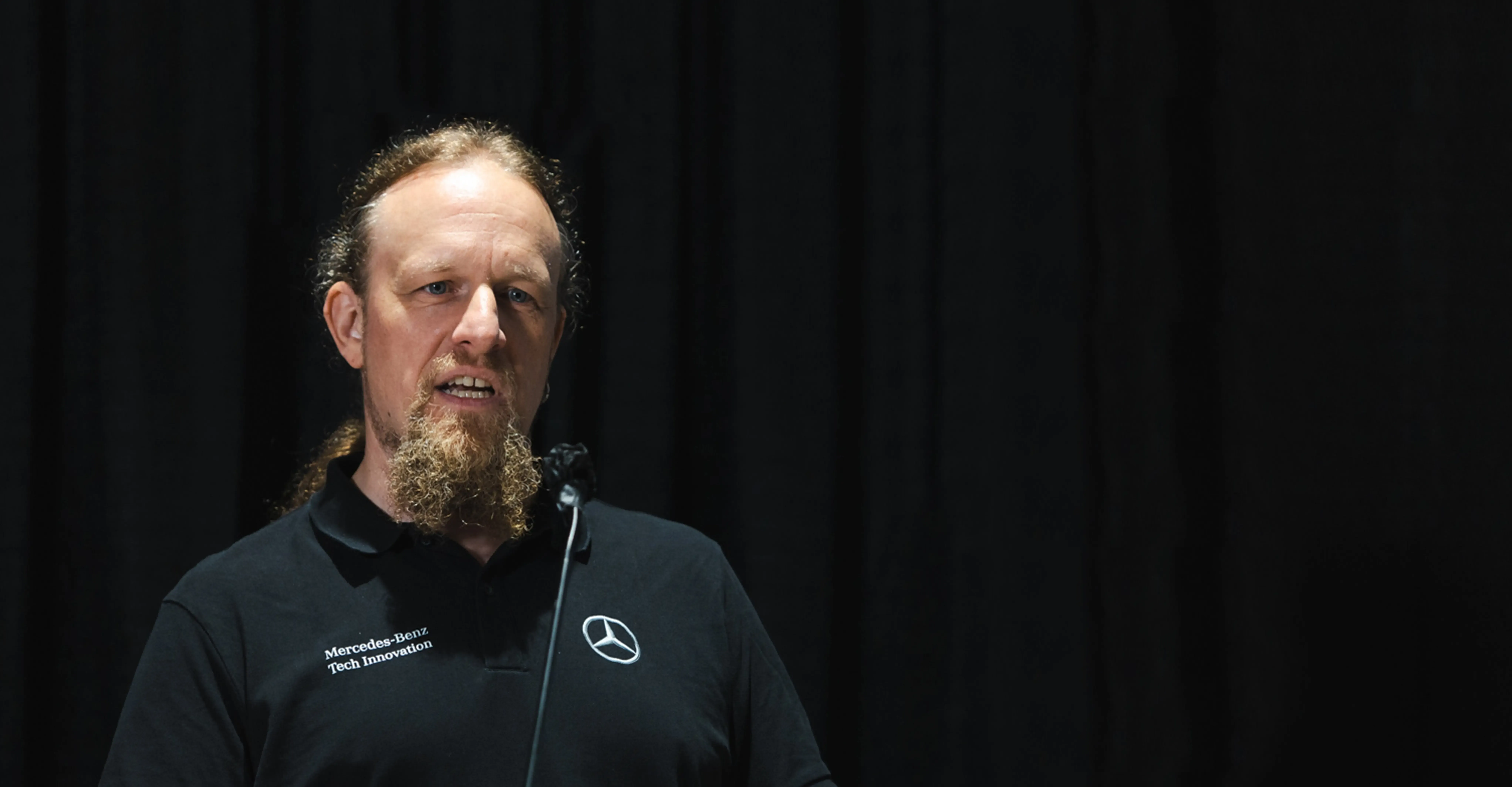 "Open source has become an integral part of modern software development." Dr. Wolfgang Gehring, FOSS ambassador
Our colleagues are also involved in various projects and initiatives as part of their work. Among other things, they hold presentations at conferences or participate in expert talks and discussions. Additionally, we also sponsor relevant tech events to promote knowledge exchange and further development.
Kubernetes Podcast
Why does a car manufacturer have a software subsidiary? And how did it come about to run 900 Kubernetes clusters? Our colleague Sabine answers these and other questions in the podcast.
Tech Blog @ medium.com
Refining Network Message Segmentation with Principal Component Analysis: Reverse engineering undocumented logs is a common task in the security analysis of networked services. The communication itself, which is captured in traffic lanes, contains much of the necessary information to perform such protocol reverse engineering. You can read more about this in Stephan's article on our tech blog.
FOSS Backstage 2023
A vision of FOSS @ Mercedes-Benz: We not only use FOSS components in the development of our products, but also want to be a full member of the worldwide FOSS community. Therefore, we established a dedicated open source strategy and our own Open Source Program Office (OSPO). At the FOSS backstage in 2023, our colleague Wolfgang told the audience what it is all about and what it really means to "live" FOSS.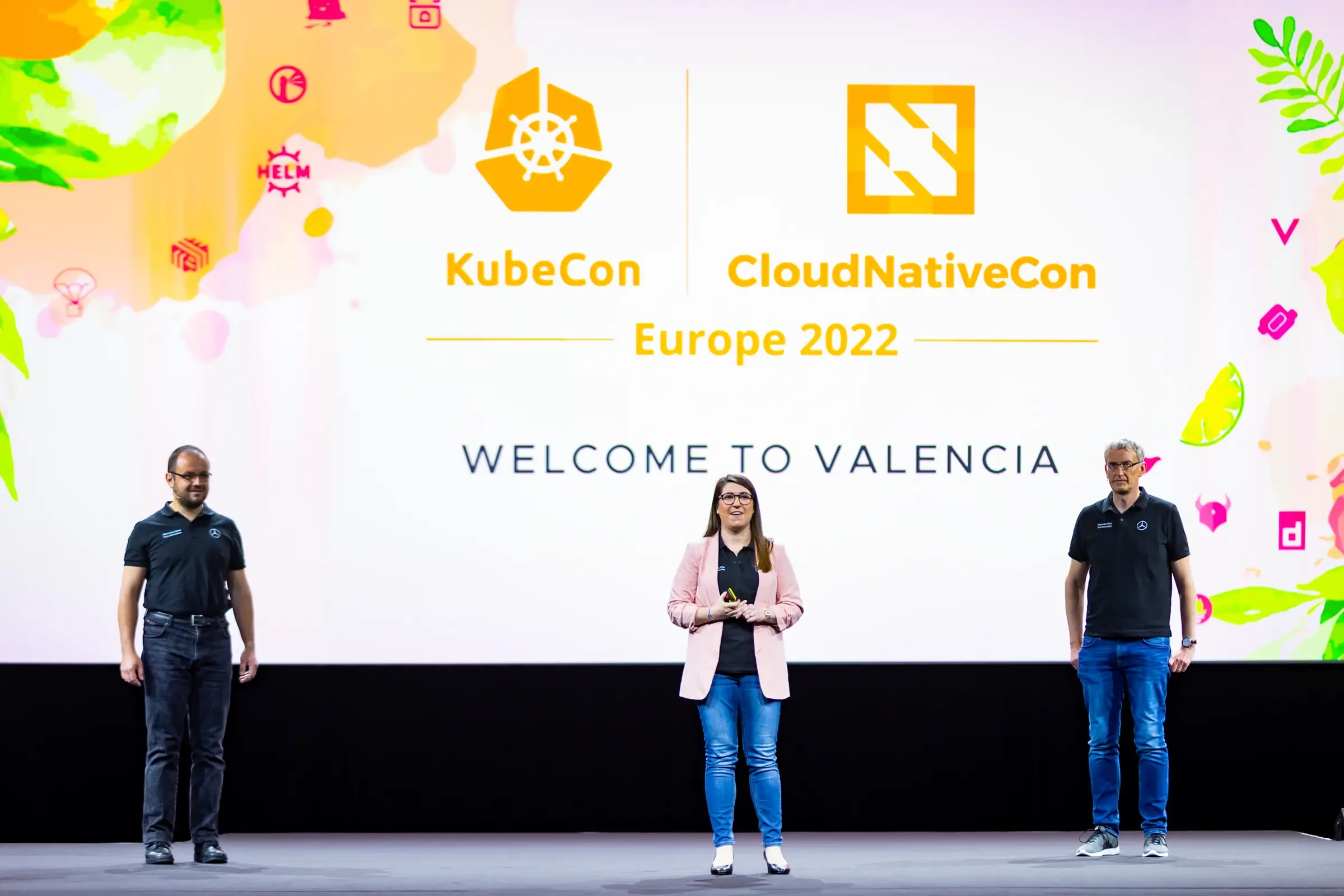 Keynote KubeCon 2022
7 years of running Kubernetes @ Mercedes-Benz: Our colleagues Sabine, Jens and Peter gave a keynote at KubeCon + CloudNativeCon Europe 2022.
_
time to grow together_
Learning, networking and knowledge exchange are very important to us – especially beyond project and departmental boundaries. To this end, we have many different self-organized Competence Groups and Communities of Practice in which colleagues discuss various topics such as DevOps, data engineering or user experience.